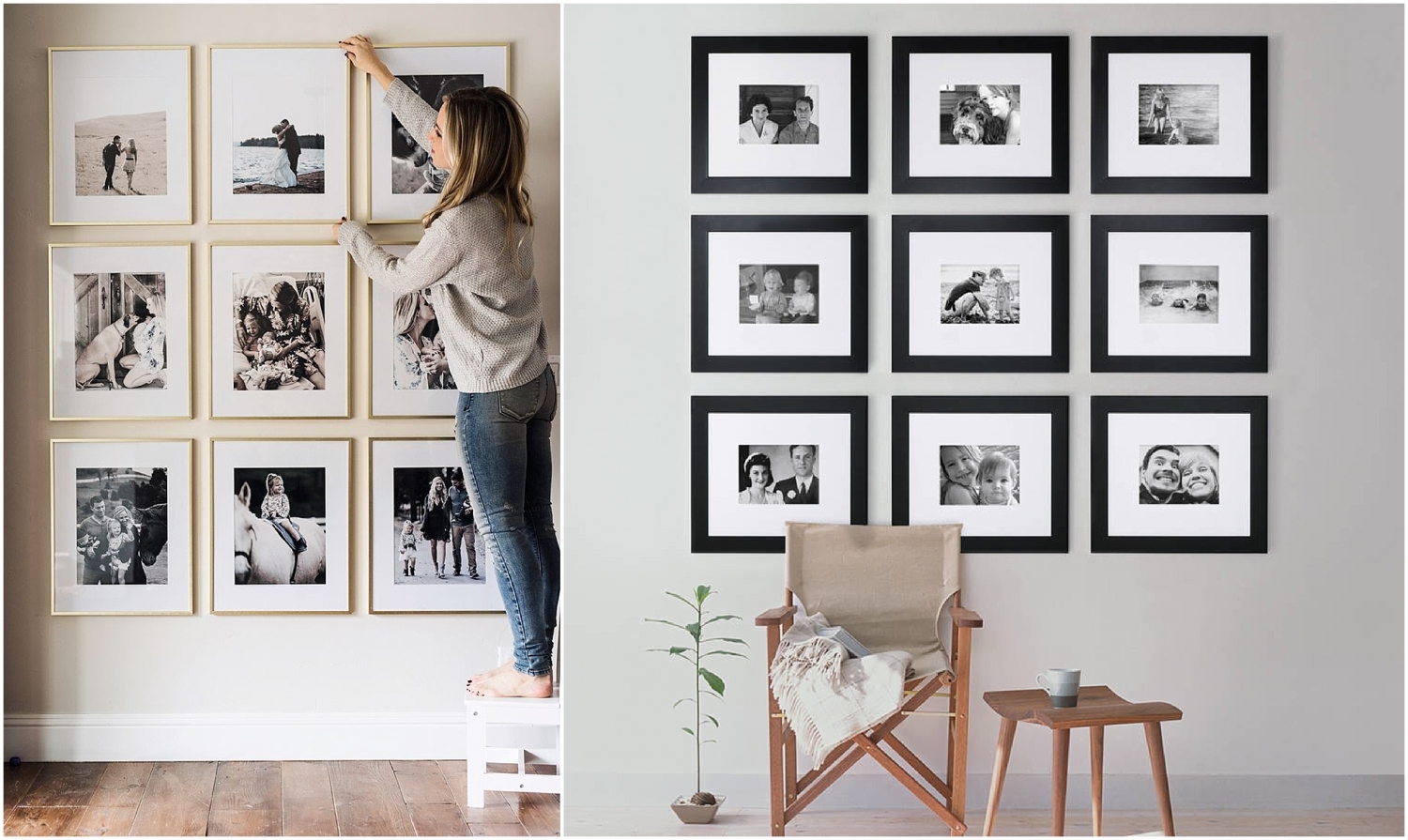 So you've done it. You've had an amazing time during your portrait session, the pictures are beautiful and you want to show them off to everyone that walks into your home...None the less admire them every every morning when you're sipping on coffee or when you've got a major case of the Mondays and you need something to smile about. It's so nice to look up and see everything and everyone that matters to you all in one place:)
What's the point in investing in a professional photo shoot if the pictures are going to stay lost in your computer forever right? Let's hang them beautifully!

In this blog I'll share with you a step by step guide on how to hang your picture frames and give my advice for choosing which frames will go nicely with your beautiful photographs. Enjoy and learn something!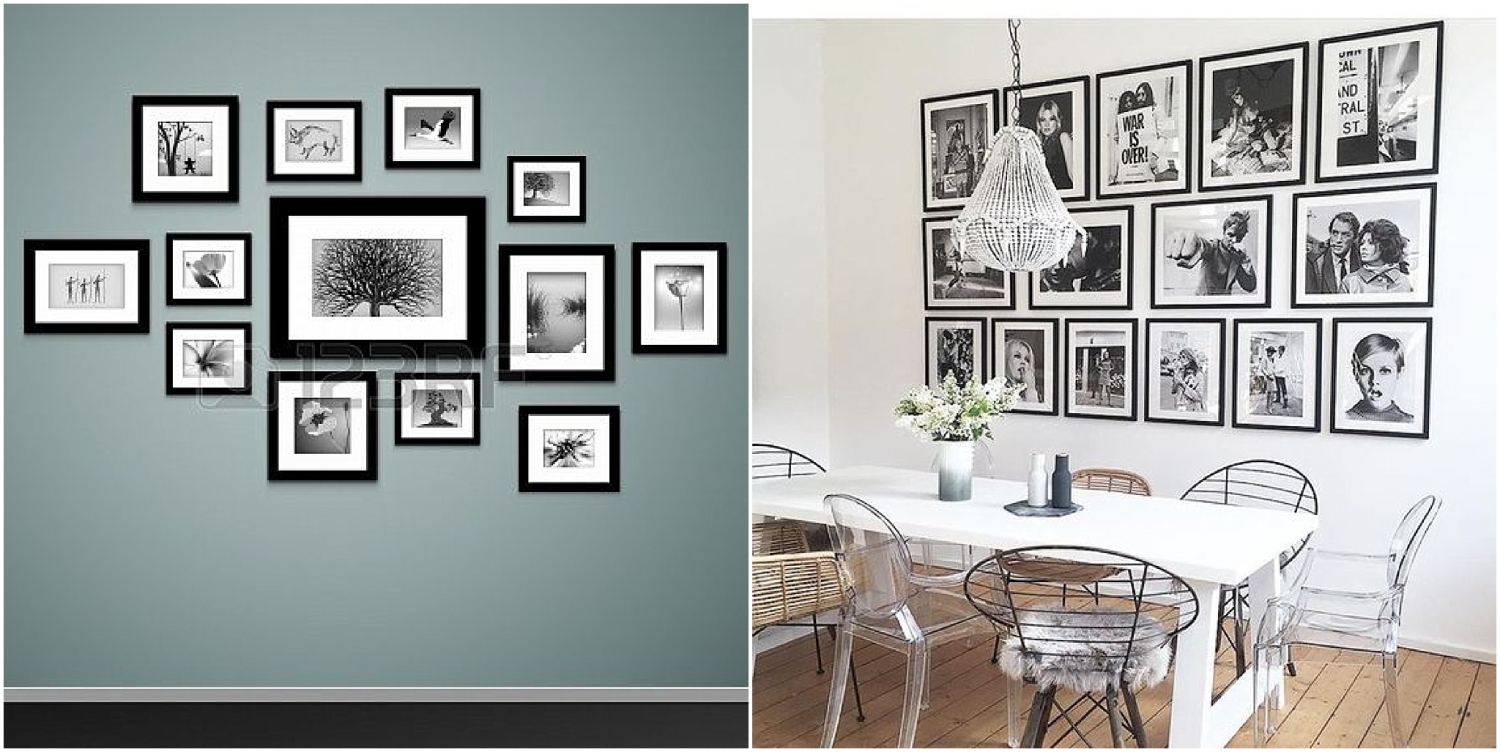 Step 1: Decide where you want to hang them
Is there a big empty wall that's screaming for a wall gallery? When you enter your home is it boring and unwelcoming? Or is your bulky sofa the focal point of the room because there's nothing above it to balance it out? It's time to hang some art!
Your photos can fill the entire wall from the floor to the ceiling. They can sit nicely above your bed or sideboard or create beautiful leading lines along your staircase. To start, walk around your home and look for spaces that are 'missing something' and create some magic!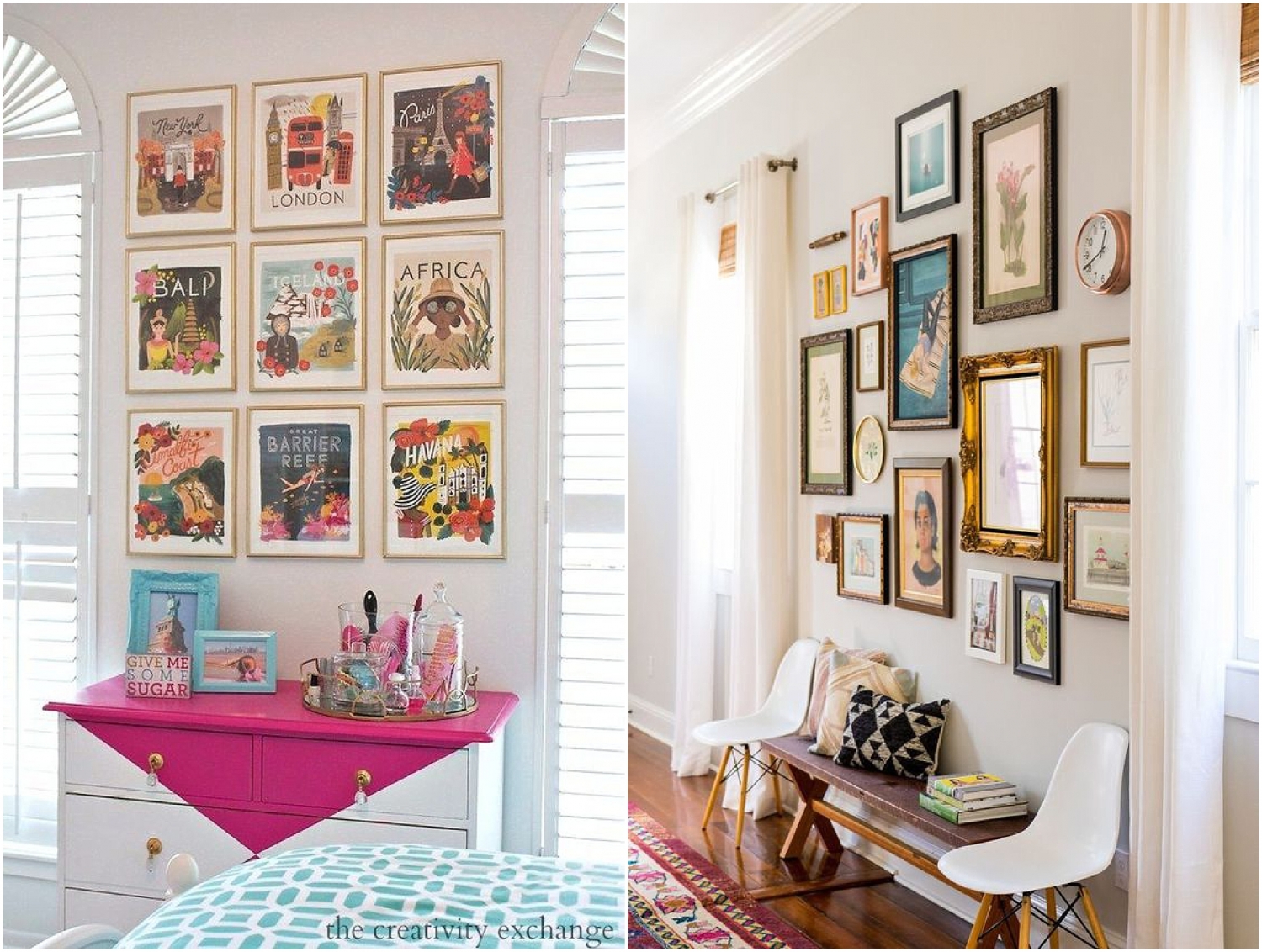 Step 2: Choose your frames & sizes
This is fun part where you can customise your portraits and picture frames to your own unique style. Modern, antique, boho, rustic..whatever reflects your personality. Your wall can now be a masterpiece of who you are as a couple or family.
You can find gallery frame sets online, at your local home department, smaller independent shops or have them custom made. Bare in mind that the frames don't have to be the same. Play around a little with mix and matching different textures, colours and materials. This can also make for a fun little shopping adventure where you can visit multiple stores to find unique pieces.
It might be a good idea to purchase the frames first before placing your photo print order if you don't already know where you're going to source them. This saves you the panic of trying to find that specific size to fit into your wall gallery.

TIP: If you like the idea of being able to move and change your frames regularly, consider leaning them on a long shelf.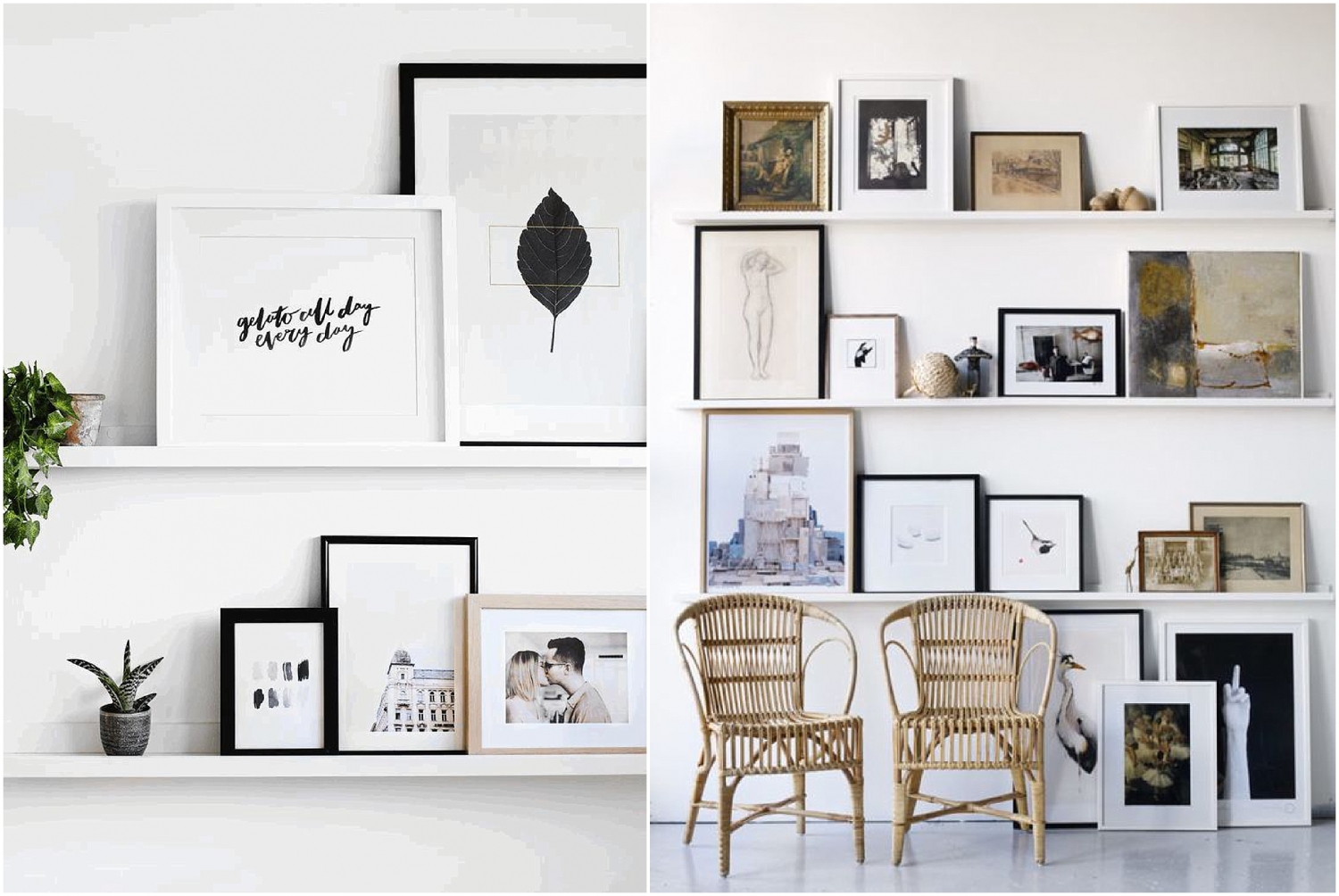 Step 3: Lay it out
Starting from the middle with your largest frame, work your way outwards either horizontally, vertically, a grid or randomly placed.
If you're having trouble deciding on a layout, take pictures on your phone as you go so you have something to refer back to.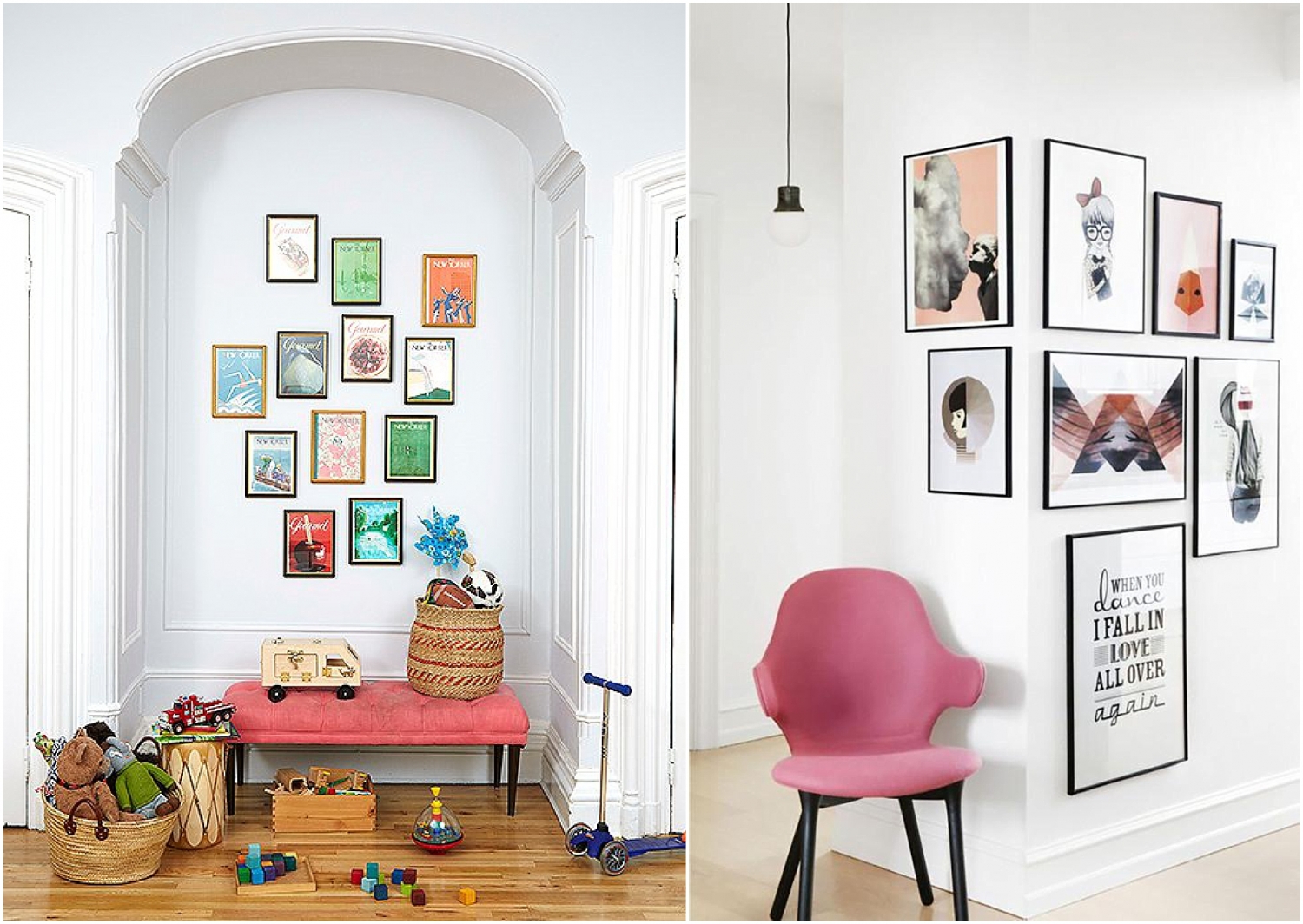 Step 4: Mock it up
Using kraft paper trace each frame, cut it and place on the wall with painters tape. Step back and ask your self; Is the composition right? Does it fill the space nicely? Will any furniture be in the way? Is it at a comfortable height?
The great thing about using paper is that it's not permanent and can be moved if necessary until it's perfect.

TIP: Hang the centre of the picture at eye level which is about 57 inches high. For groups, centre the whole gallery at 57 inches. This is the height that museums choose to hang their art.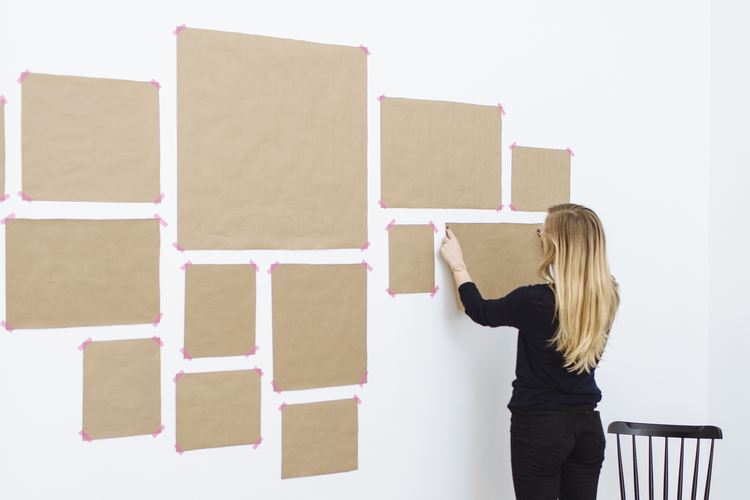 Step 5: Hammer & Hang
After you've done a paper mock-up it makes the hanging part easy!
Find the centre where your frame will be hung, mark the spot, hammer your nail in and pull the paper away.
Finally...hang those babies up, step back and admire them every single day.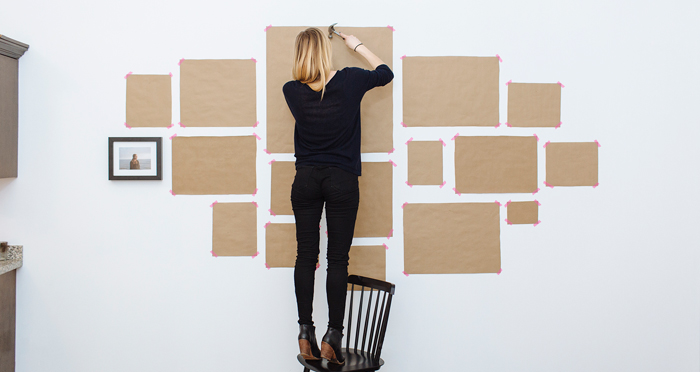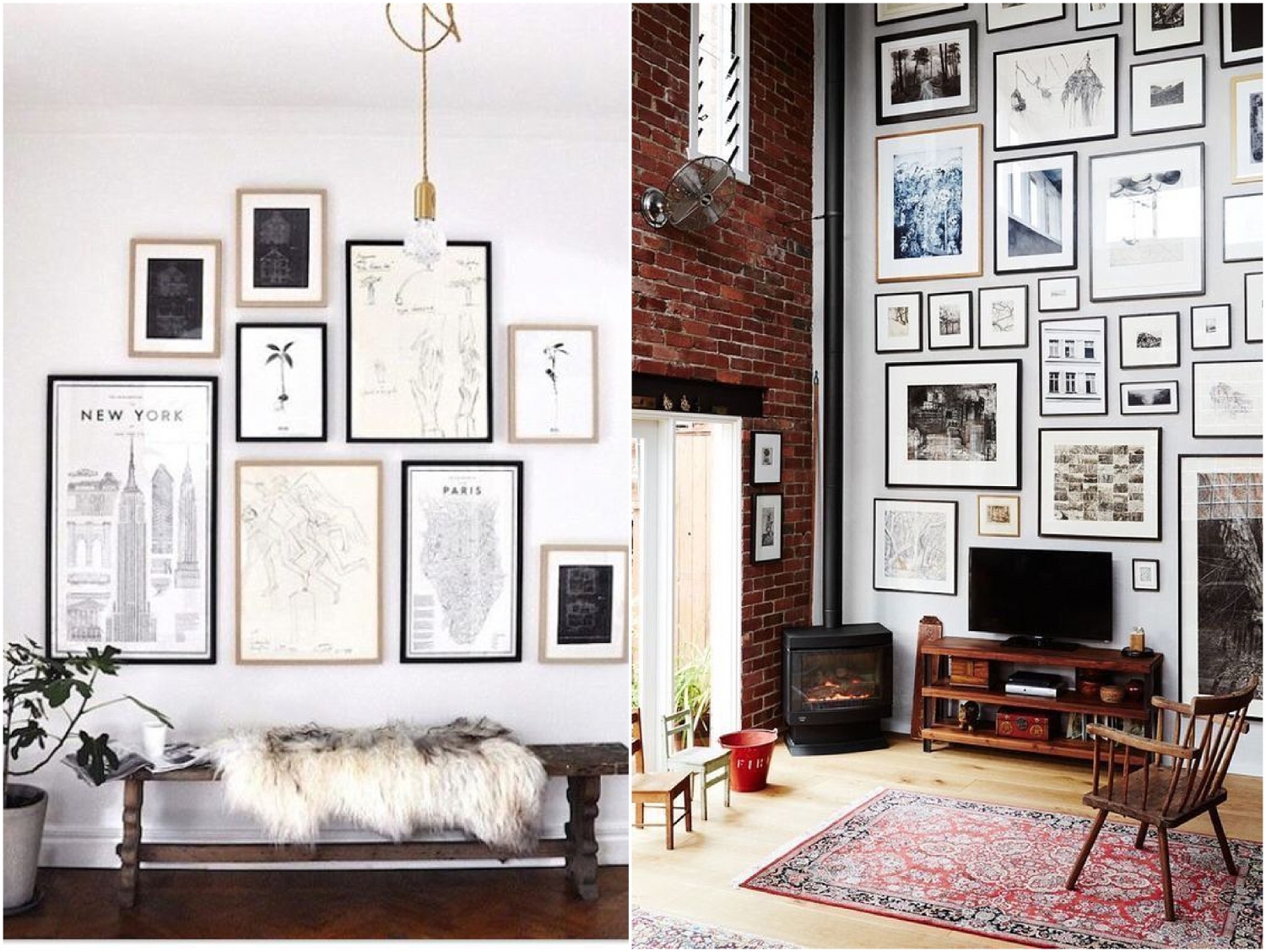 TIPS
For light weight frames use small nails.
For medium weight frames use picture hangers.
For heavy frames secure them to studs, use speciality hooks or anchor screws
Use a level to ensure that your lines are straight
Use a ruler to find the centre of the frame where you with put the nail or picture hanger.
In older homes with plaster drill a pilot hole through tape to avoid cracking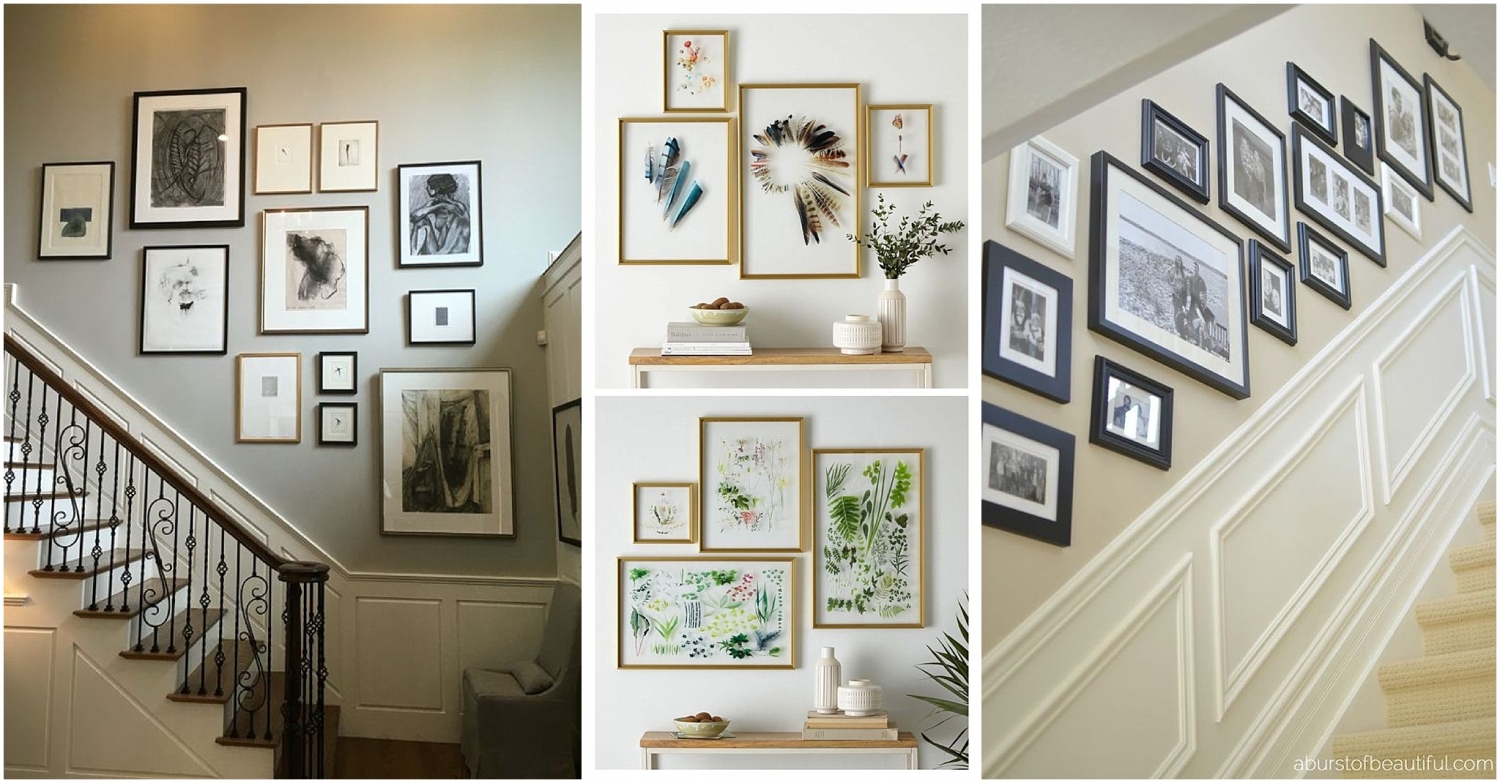 WHEN CHOOSING YOUR FRAMES:
Warm tones in photographs such as reds, oranges and browns go well with dark wood frames like mahogany or walnut
Cooler tones such as blues, greens or lavender go well with light wood frames like oak, ash or pine
Black frames are elegant highlighting the darker features in your photo (great for b&w's)
White frames also bring out the dark features but a more casual approach
Metallic frames have a modern, trendy approach lifting the colours from the photos
Metallic frames are great for a variety of photos from family photos, landscapes to black and white images
To help your photo stand out, ensure that your frame isn't a similar colour to your walls

Don't overemphasise matching specific colours int your photo to the frame colour. Instead, consider the overall tone of the image when selecting a frame


Matching a frame to your existing room decor is more important than matching a colour in your image to the frame itself. Choose a frame that either complements your current decor, or adds just the right spark of contrast.